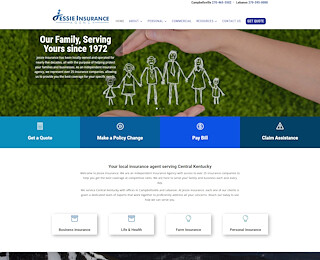 If you're looking to purchase the best auto insurance in Campbellsville, KY, Jessie Insurance Agency is here to help you get perfect coverage that suits your needs and budget. We represent the top-rated insurance companies that provide a wide range of auto coverage products at fair prices.
What is auto insurance?
Auto insurance (or vehicle insurance, car insurance, and motor insurance) is a contract between you and the insurer that protects you against financial loss in case of theft or accident. In exchange for your paying premium, the insurer (insurance company) agrees to compensate for your losses depending on the policy.
This insurance provides financial protection against bodily injury or physical damage resulting from traffic collisions and against liability that may arise from vehicle accidents. Auto insurance may additionally offer coverage for damages resulting from other events such as weather, keying, natural disasters, and colliding with stationary objects. The particular terms of motor insurance vary with legal regulations in each state.
Find the right auto insurance!
With higher prices of gas and the cost of vehicle maintenance, it's vitally important to look for sufficient ways to save money on other operating expenses. One of the most effective ways to do this is to find reliable motor insurance for your vehicle. All drivers must carry auto insurance, and for this reason, many people tend to just pick a local insurer without looking at the details in the policy.
However, getting the best deal when selecting your auto insurance in Campbellsville, KY, can be tricky, and that's why you need to learn how to choose the right motor insurance. The following are some simple tips to help you pick the most exceptional vehicle coverage deal:   
Ensure your credit score is good.
Choose an experienced independent insurance agency.
Get different appropriate options.
Compare annual rates
Compare quotes
Consider the financial stability of various insurers.
Pick a suitable insurance company
Set an excellent deductible rate
Take advantage of discounts
Beware of scammers
A perfect and reliable way to get your auto insurance
We're the leading independent insurance agency in Campbellsville, KY, that listens to all your needs then find ideal auto insurance that fits those needs. We help our clients get the right coverage from highly-rated insurers at a fair price.
The following are some excellent benefits of choosing our superior independent insurance agency to take care of your auto insurance needs:
Professional, unbiased advice
Time and money-saving
Industry experience and expertise
Build a long-term relationship
Great insurance options
We'll keep your records in order.
You've got questions, we've got the answers.
Get the finest auto insurance!
Picking the right vehicle insurance policy isn't as easy as it seems, but with expert help, you can rest assured of getting perfect coverage at very competitive prices.
If you're looking to get the most useful auto insurance in Campbellsville, KY, choose Jessie Insurance Agency to help you pick the right coverage at an affordable price. Please, reach us now to speak with an insurance expert.
Jessie Insurance Agency
+1 270-465-5502
103 Central Shopping Ctr
Campbellsville
KY
42718
US