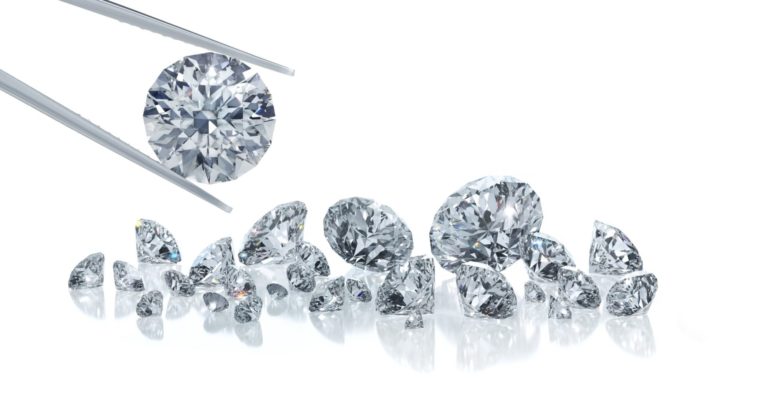 What is Jewelers Block Insurance? First Class Insurance offers Jewelers Block insurance for the Jewelry Industry. This specialty coverage can protect your inventory such as precious and semi-precious stones and precious metals from loss or damage.
Jewelers Block Insurance is an Inland Marine type of insurance policy that provides coverage for those with Jewelry Industry businesses such as Jewelry Retailers, Wholesalers, Manufacturers and Designers. Pawnbrokers, who often sell jewelry, may also be covered with a Jewelers Block Policy.
We also offer Travel coverage when wearing. Work with us today to obtain a quote and get the coverage you need.
What is covered under Jewellers Block Insurance? Coverage includes industry based needs for this in the jewelry trade. This typically means Owned Stock, Stock Owned by Others, Travel with Stock, Tradeshow coverage, and Business Personal Property.
There are many optional coverages which can be included on your policy. Simply provide requested limits on your application such as Out of Safe coverage when closed for business at night. We will help you understand the application and assist you with any questions.
How do I obtain Jewelers Block Insurance? The process is quite simple really. We don't complicate things or make them confusing for you. With basic information about your business and security features, the application is completed.
We present quotes to you from available markets and let you decide how you wish to proceed. Payment can be made online and we are always available for further questions or coverage changes. Why wait?
Does a BOP cover jewelry? NO! A Business Owners' Policy or "BOP" covers your Building, Business Personal Property and General Liability. A Jewelers Block policy would cover your inventory as jewelry.
Smash & Grab Robberies up 99% says Jewelers Security Alliance
As seen on Inside Edition's August 2, 2023 airing, "Trash Can Robbers" take over $1M in jewelry from a retail store in Irvine, CA in less than 60 seconds. According to Jewelers Security Alliance, smash & grab robberies are up 99%. Don't risk your safety during a smash & grab robbery! Make sure your jewelry Stock is covered properly with a Jewelers Block Policy. Need a quote? Have coverage but want to compare rates? Contact us at (954) 241-4680 or via email to info@firstclassins.com. See the full video here:  Smash-and-Grab Thieves Steal Nearly $1M Worth of Jewelry – YouTube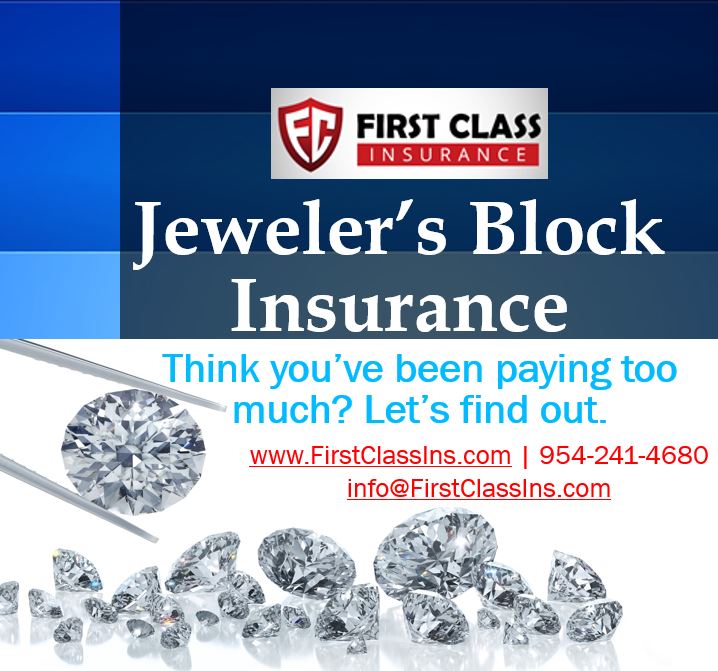 What is Memo Coverage? There are two scenarios where your insurance policy can cover this merchandise. One is considered "On-Stock taking in of Other People's Goods" and the other is known in the insurance business as "Giving Merchandise Entrusted to Another". Memo is basically a consignment transaction, where goods have been loaned to someone else who may be able to sell them.
If they or you can sell the items and pay the other party as previously arranged, then great! But what if something unexpected happens?
If it is your Merchandise, you can be covered in the event that the party you loaned out items to has lost or damaged them. And if you are responsible for the damage or loss caused by someone else's Merchandise, your insurance policy may provide coverage for the goods belonging to the party that loaned it to you on Memo.
What happens if the items are lost in transit between the two "memoing" parties? Ask us about Shipping Coverage!
First Class Insurance is a national insurance brokerage specializing in high risk markets. Call us at (954)241-4680. We are available at extended hours and can also be reached via email. Drop us a line with your questions! info@firstclassins.com.
Preventing Theft is critical, as jewelry businesses tend to be targeted due to the high value of the items you carry. There are several key things you can do to help make your business less vulnerable to theft or robbery.
Before procuring insurance, the insurance company will want to be sure you have certain minimal security features in place. You will identify your current security setup on your application for Jewelers Block Insurance. Once your policy has been bound, an inspection may be scheduled to conduct a risk assessment at your location. This is intended to identify security measures that could be improve your existing security.
A Central Station Alarm and adequate safe protection are standard requirements to procure insurance. Additional security features include: door buzzers, surveillance cameras with recording devices, alarm system functionality connected to your safe, UL-rated safes, and adherence to opening and closing procedures. Your insurance company typically offers discounts based on the level of security you have in place.
And don't forget to ask us about your No Claims Bonus at renewal! Call First Class Insurance to obtain a no obligation quote at (954) 241-4680. You can also send an email to info@firstclassins.com.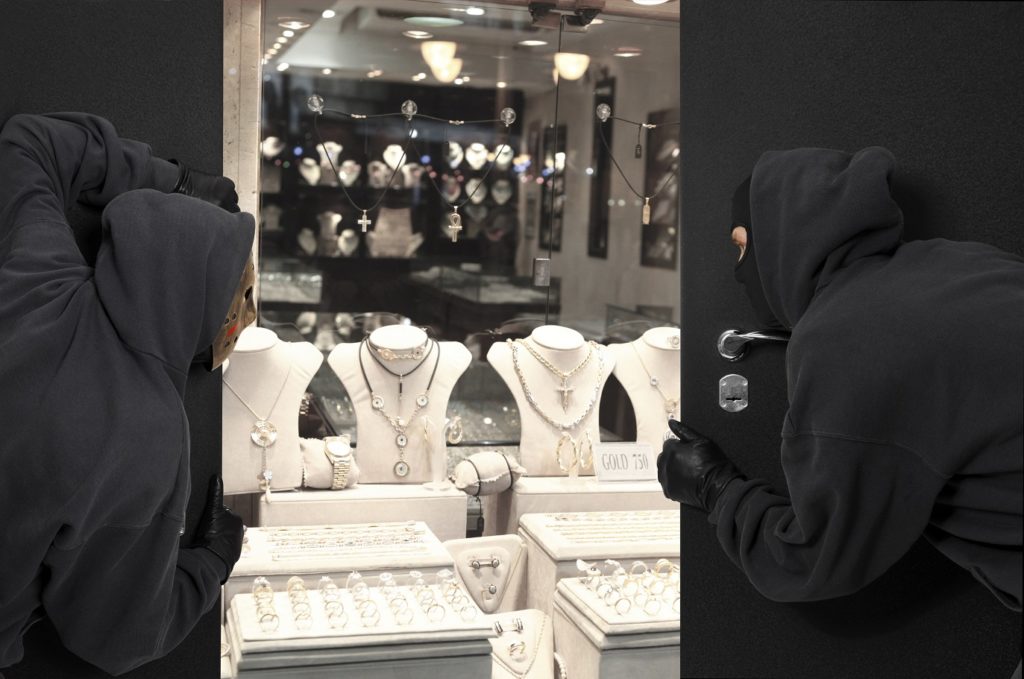 Jewelers Block coverage offers protection for theft, loss or damage of your store's precious and semi-precious stones and precious metals, otherwise referred to as your Inventory or Stock On-Premise.
You can also include insurance for goods entrusted to you (known as Memo), Stock Off-Premise, Travel Coverage and Show Coverage.
This type of coverage is not available with a standard Businessowner's Policy which provides coverage for damage to showcases, furniture, fixtures and other Business Personal Property, although we can offer to you a Businessowners Policy to include Liability (often required by your landlord) and Loss of Business Income.
Your agent will discuss with you alarm requirements, safe limitations, Out-of-Safe limits available and options for shipping coverage.
Whatever your business model specifications, a Jewelers Block Policy quotation can be tailored to meet those requirements.