We Can Provide Coverage for The Following:
WE INSURE:
Pawned & Owned Jewelry & Guns and /or Other Stock
Employee Theft
Building Coverage
Business Personal Property
Business Interruption & Extra Expense
Auto Pawn Vehicles (property coverage)
Personal Conveyance of Jewelry
FedEx, UPS, Armored Car Shipments
Cash On & Off Premises
PROPERTY:
All Owned Premises
All Operations – unless excluded
Products – Completed Operations
Personal and Advertising Injury
Medical Payments
GENERAL LIABILITY:
Products Completed Operations on Guns, Firearms, and Ammunition up to $1,000,000
Employee Benefits Liability
Hired and Non-Owned Auto Liability
Employment Practices Liability
Cyber Liability
Gun Liability
COVERAGE INCLUDED AT NO ADDITIONAL CHARGE:
Money and Securities – $10,00
Employee Dishonesty – $10,000
Property Off Premises – $10,000
Property Mailed or Shipped (USPS Express) – $50,000
Plus many other unique coverage extensions at no additional cost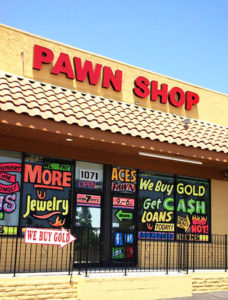 Pawnbroker Package Policy | Pawn Shop Insurance
We offer a Pawnbrokers Package Policy as comprehensive insurance coverage for pawn shops. As the owner of a pawn shop, you have mastered the art of negotiations. Let an experienced broker from First Class Insurance Agency go to bat for you to negotiate the best price on a Pawnbrokers Package Policy. Insurance written specifically for the pawnbroking business is designed to protect your specific interests as a pawn store owner.
Coverage options can include your Building if you own it, General Liability, Business Personal Property, and if needed Gun Liability, Workers' Compensation, Business Auto, and Employee Practices Liability Insurance.
Your First Class Insurance broker can also discuss with you security requirements and coverage options. If you are new to the business, the National Pawnbrokers Association (NPA) can be a useful resource! To learn more about Opening a Pawn Shop, click here. If you would like to join the NPA, click here.
Your pawn shop insurance needs to include liability for items leased, owned and pledged, or held on consignment; out-of-safe items; and glass. It should also cover Stock to include guns and jewelry. It would not make good business sense to decrease your coverage options, simply to lower the price of your insurance.
Pawn shops are unique from retail stores in that they often carry high-value items such as guns and jewelry, which are frequently targeted by thieves. Pawnbroker insurance is customized to cover these unique risks. A Pawnbrokers Package Policy will take your business model into consideration in order to write the coverage parts that you need. An experienced broker at First Class Insurance will help to ensure that you do not over-pay for these.
Having a robust security system in place is one of the best ways to not only prevent a loss but also to lower the cost of your pawn insurance. A central alarm system is a must have, and should include hold-up buttons as well as door contacts on your safe. Long guns can be stored in a gun safe, but if let out on racks while closed for businesses, you will want to have a cable lock running through all trigger mechanisms.
CCTV surveillance monitoring with recorders are highly recommended, and additional security features to consider can include bars on windows and heavy door lock bolts. If you are taking auto on pawn, make sure that you have a secured, locked enclosure for storing vehicles and consider razor wire along fencing.
For helpful information about security measures you can take to protect your business, click here. As a business owner, you try to protect your livelihood, but if the unexpected occurs, you need to have insurance in place for your specific type of risk.
No question or concern is too big or small. Your First Class Insurance broker will always make time for you and will ensure that you feel comfortable with the insurance terms presented. It is our business to make the process easy for you and earn your loyalty as our First Class clientele.
Call (954) 241-4680 or click the Contact Us link above for a quote!